This short-form video was created as part of a documentary film class taught by Professor Michelle  Stewart and Professor Jason Pine at SUNY Purchase in 2009.  While primarily a theory-based class, the final project was to produce a ten-minute documentary with a group of five to seven students.  
Purchase is about a forty minute drive from Greenpoint, a predominantly working class, Polish-American neighborhood in northern Brooklyn.  It's an interestingly isolated area of Brooklyn--it has waterfront access to the East River directly across from Midtown Manhattan, sits north of Williamsburg, and is separated from Long Island City, Queens by the Newtown Creek.  It's serviced by one local subway line, the infamously tardy G train, and has no direct link to Manhattan except for an infrequent ferry.  In the past ten years or so, there has been a boom in population as young transplants situate themselves in Greenpoint close to the ultra-hip Williamsburg neighborhood and jobs within New York City.
It's hard to remember that before the mid-to-late 1990s, northern Brooklyn was nowhere near the hotspot it has become in recent years.  Beginning in the early 19th century, the Williamsburg waterfront was stacked with industrial plants, warehouses, and oil refineries.  The refineries changed hands over the course of the next century until they were shut down in 1966.  During that period, Newtown Creek devolved into a sewer for the surrounding area of residents and industries.  In the 1970s, with the oil refineries shut down, Mobil, Amoco, and Paragon Oil moved their operations in-land and built a large petroleum storage facility.  
Around this time, the first signs of a massive oil spill were reported and the companies involved began to pump, though the cleanup process really began by the mid 1990s.  By the mid-2000s, cleanup intensified and in 2006, it was reported that 9 million gallons of "free product" had been recovered, and in some cases, resold to the public.    Coincidentally, in 2005, Williamsburg and Greenpoint were rezoned to promote development along their waterfronts and increased housing, most of it luxury high rises looking into Manhattan.
We discovered that the neighborhood's awareness of the problem was varied at best; many older residents were Polish immigrants who accepted the smell and look of Newtown Creek as common place while new, young residents acknowledged the massive scale of the problem but had few motivations to act.  As we went over research and our own footage, it became clear that Newtown Creek was not only an environmental issue, but a socioeconomic and political one as well.
It's estimated that somewhere near 30 million gallons of crude oil have seeped into the creek over the past 150 years.  For comparison, Exxon Valdez is generally measured to have spilled 11 million gallons and Deep Water Horizon weighs in at 210 million gallons spilled.  What makes cleanup extremely difficult is that much of the oil has seeped deep into and below the creek's bottom and environmentalists fear that dredging up the packed mud would lead to even larger problems.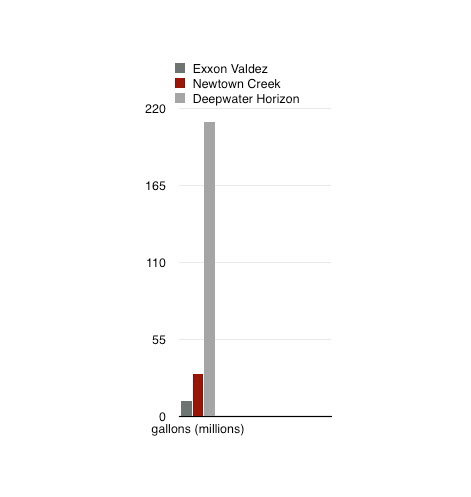 Director: Alex Lane
Editors: Joe Matoske and Brennan Full
Camera Operators: Alex Lane, Emily Ohara, and Al Rossin
Interviewers: Ray Russell and Hollie Silverman
Researchers: Joe Sackett and Marie Stewart
Music: Tortoise
Project Cover Designer: Poison designed by Luis Prado from the Noun Project